Article content
Dr. Arthur Kidd, Feb. 16, 1948 — April 24, 2023
Article content
One of the area's most prominent physicians for over 40 years and past president of the Essex County Medical Society, Dr. Arthur Kidd, passed away April 24 after a brief illness.
The 75-year-old Windsor native was also Windsor's first endocrinologist and a winner of the Fredrick G. Banting award for his service in helping improve the lives of his patients with diabetes.
"He was more like a family physician for many of his diabetes patients," said his son Garth Kidd. "He'd start seeing them when they were kids and continue seeing them right on through their lives.
"One of his proudest moments was a patient, who he started treating for diabetes as a kid, asking him 20 years later for a letter of recommendation to get into medical school."
Article content
However, Kidd's influence on local health care will live on through his contributions and the positions he held at Windsor Regional, Hotel-Dieu and Grace hospitals over his lengthy career.
He was chief of medicine/chief of staff at all three of Windsor's hospitals at various times. He was also the specialist lead for the regional diabetes coordination centre for Erie-St. Clair LHIN.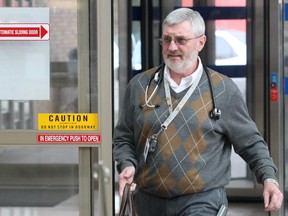 The Queen's University medical school graduate was the initial chair of the regional Pharmacy and Therapeutic Committee for the hospitals and assistant director of Learning, Equity and Wellness for the Windsor campus of the Schulich School of Medicine and Dentistry.
"Art was an exceptional leader, colleague, and friend," said Windsor Regional Hospital's chief of staff Dr. Wassim Saad.
Article content
"He had a remarkable career as a physician and dedicated his life to serving our hospital and the community. Being the first endocrinologist to practice in Windsor/Essex, he was a trailblazer and visionary who inspired us with his passion, commitment and integrity.
"He paved the way for countless others to follow in his footsteps."
Despite his many accomplishments, Garth Kidd said his father was never interested in getting credit or seeing his name on projects. He also never fully retired as he was helping at Hotel-Dieu Grace Healthcare a couple of weeks ago.
"He'd be prouder of the actual contribution and the impact on his patients and the community than being concerned that he did it," Garth Kidd said.
"My dad was a real people person. He came from a family of teachers and I think he was an educator as much as a doctor.
Article content
"He liked to explain treatments and why he was doing them."
With six children, Kidd was just as busy once he got home as he was at the office. Garth Kidd said his dad had a love for fishing, gardening and was a voracious reader.
"My dad's real passion was for his family," Garth Kidd said. "That always came first.
"He was the quintessential father figure, even for my friends.
"He was the authority figure when we were kids, the role model we aspired to as we got older and then he made the seamless transition to best friend when we'd grown up."
Kidd is survived by his wife Marnie and his six children.
There is no public funeral or memorial planned at this time, but the family is hoping to set up a fund to support the Windsor campus of the Schulich medical school.
Dwaddell@postmedia.com
Twitter.com/winstarwaddell