Niacinamide is a buzzy skin care ingredient, but for good reason. Not only is it hydrating, but it can also improve overall tone and texture. "Niacinamide, also known as vitamin B3, is an ingredient found in topical creams that helps brighten the skin, as well as improve its overall appearance," said Dr. Sheila Farhang, a board-certified dermatologist and double-fellowship trained cosmetic surgeon.
SKIP AHEAD How does niacinamide work? | Who should use niacinamide | How to use niacinamide | How long does it take for niacinamide to work?
In recent years, niacinamide has become particularly popular as a versatile ingredient that can help target skin care concerns, including discoloration and redness, while still being gentle on the skin, said Dr. Marisa Garshick, a board-certified dermatologist. "It supports the skin barrier, reducing water loss in the skin," said Garshick. "Niacinamide also has soothing and anti-inflammatory properties, making it a good option for those with acne or rosacea-prone skin."
The best niacinamide products to shop
There are a number of skin care products on the market that contain niacinamide, including toners, lotions and serums. To help you find some of the very best, we asked experts for their favorite products and sought out highly-rated products from Select readers' favorite sites.
Garshick recommended this toner which contains niacinamide as a primary ingredient. It also contains prickly pear extract to gently exfoliate the skin. "This acid-free toner helps to brighten the skin while also improving the appearance of the pores," said Garshick. "It shouldn't lead to irritation and is a great option for those with sensitive skin."
Our experts recommended this affordable option because it contains a retinol complex to help improve the appearance of fine lines and wrinkles. It also utilizes niacinamide to soothe and even out skin tone. It is gentle on the skin and fine to use every night, said Garshick. This night cream has a 4.4-average star rating out of 1,126 reviews at Target.
This booster contains 10% niacinamide to moisturize and control oil. It's meant to be mixed into other skin care products. The brand recommends adding it to your moisturizer morning and night. It also contains licorice root to soothe redness and vitamin C to fade dark spots, according to the brand. This booster has a 4.5-average star rating out of 1,094 reviews at Amazon.
La Roche-Posay suggests applying 3-4 drops of this serum to your face and neck at night before you apply a moisturizer. It contains niacinamide, along with hyaluronic acid, which is known to hydrate. It also contains pure retinol to help address fine lines, according to the brand. This serum has a 4.6-average star rating from 5,754 reviews on Amazon.
This fragrance-free night cream is good for those with sensitive skin, according to the brand. Olay says it's ideal for those with aging skin and that it can help even out skin tone. It has a 4.6-average star rating out of 7,793 reviews on Amazon.
MaeLove NIA 10 serum
This serum comes highly recommended by Garshick, who said it's a good option for those with sensitive, inflamed, dry or acne-prone skin. Along with niacinamide, it contains zinc and white tea extract, which Garshick said reduces redness and soothes the skin.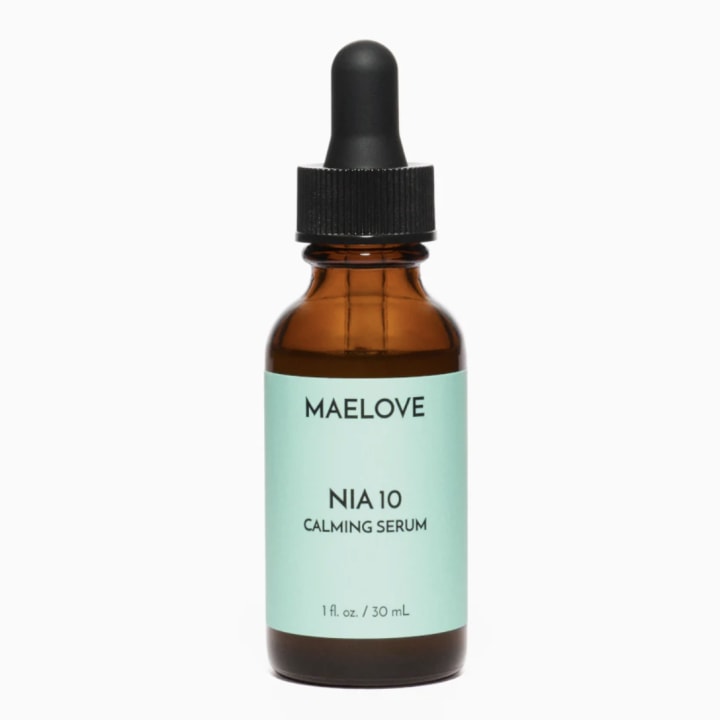 Maei MD Serum 6
"Containing a blend of vitamin C, niacinamide, peptides and hyaluronic acid, this product helps to hydrate, nourish and soften the skin while also protecting against free radical damage and helping to improve collagen production," said Garshick. According to the brand, it should be applied morning and night before moisturizing.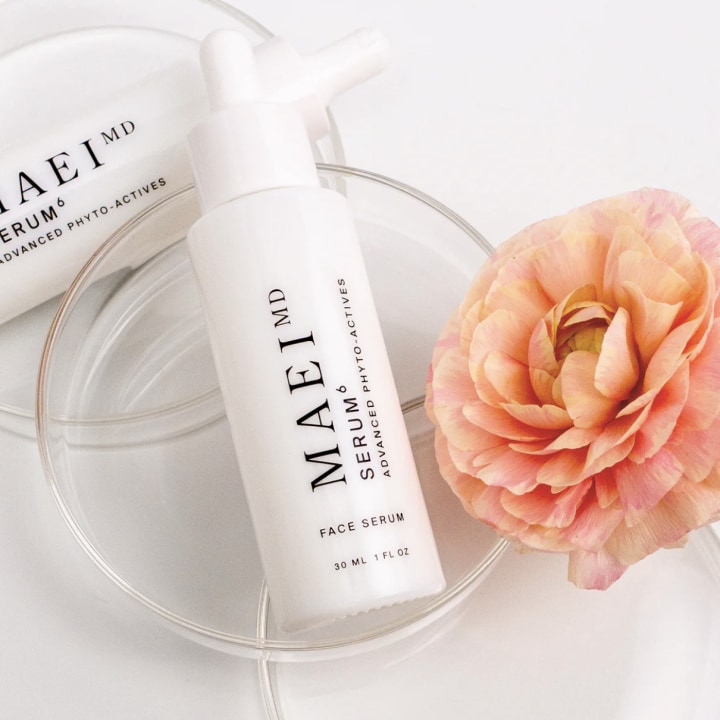 KaramMD Illuminate All-in-One Cream
Garshick likes this cream for its combination of retinol and niacinamide, both of which she said can help address fine lines and dullness. According to the brand, this cream can also address uneven tone and may encourage collagen production.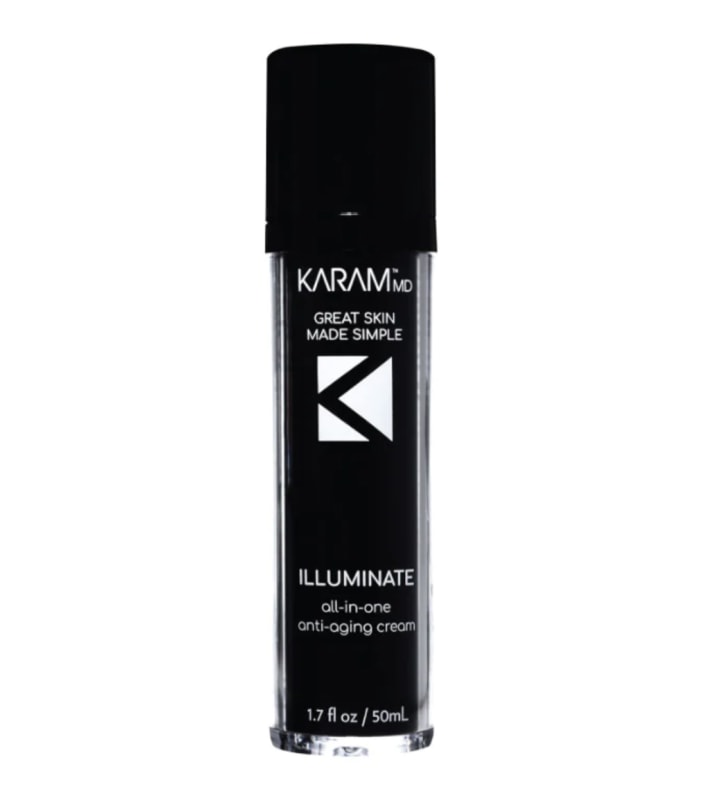 "This sunscreen is especially good for those with acne-prone skin," said Garshick. In addition to offering broad-spectrum coverage, Garshich says this product contains niacinamide to reduce inflammation and redness that may be associated with acne flares. It has a 4.7-average star rating from 35,637 reviews on Amazon.
How does niacinamide work?
As we previously mentioned, niacinamide is a B vitamin that can improve the skin barrier, which decreases transepidermal water loss, said Farhang. In other words, it helps keep moisture in your skin.
Farhang also noted that topical application of this ingredient — like through a skin cream or lotion — has been shown to hydrate skin while simultaneously regulating oil production. This makes it good for those who have dry or oily skin. But moisture isn't the only way niacinamide works to keep skin healthy. It also helps your skin build keratin, a protein that aids in keeping skin firm, said Murad.
What does niacinamide do for the skin?
"Niacinamide can be used by all skin types," said Garshick. "It can be used by those with oily skin to help lower excess sebum production and those with dry or sensitive skin as it is anti-inflammatory and gentle on the skin." Garshick also noted its anti-inflammatory properties make it helpful for those with acne or rosacea-prone skin.
"If you're looking to reduce hyperpigmentation or minimize fine lines and wrinkles, niacinamide can be a great ingredient to add to your skin care routine as well," said Dr. Howard Murad, a board-certified dermatologist and founder of Murad Skin care
If you are new to niacinamide or have sensitive skin, our experts said it may be wise to avoid starting with products that have a higher concentration.
Is it ok to use niacinamide everyday?
In a word: yes. Garshick said that niacinamide can be used morning or night. "It is okay to use every day as it is generally well-tolerated. Because of this, it is often found in cleansers and moisturizers that are designed for daily use," she says.
While you can find niacinamide in various forms, Garshick said that your intended outcome determines which product is best. "Niacinamide may be incorporated into cleansers, moisturizers, serums, lotions or creams," she said. "Choosing your optimal niacinamide product depends on your routine and concern."
For example, if you're looking to brighten skin or address hyperpigmentation, Garshick recommended a serum, which tends to be more highly concentrated. On the other hand, folks looking for soothing or moisturizing benefits should use a cream.
What should you avoid mixing with niacinamide?
"Niacinamide meshes very well with many other skin care ingredients," Murad added. "It's water-soluble, so it works best when used with other water-based skin care formulas. When used with vitamins like B5, B6, B9 and E, it works to alleviate dryness, minimize the appearance of wrinkles and soothe skin."
Retinol, a skin care ingredient that helps with fine lines, doesn't always play nicely with others. But, niacinamide and retinol work nicely together. Our experts said that combining a niacinamide serum with your retinol treatment will help to lessen irritation and dryness that is par for the course with retinol.
How long does it take for niacinamide to work?
Garshick said that some positive effects may be seen within two to four weeks of use, but that often the benefits of niacinamide will continue to improve over 8 to 12 weeks.
"The effects of niacinamide depend on the frequency of use and the amount used," added Murad. "As is the case with many skin care products and ingredients, it can begin working immediately but you will continue to see better results over time. After 8 weeks of use, niacinamide has been shown to help reduce the look of age spots and after 12 weeks of use, participants in one clinical trial noticed smoother skin texture, a more evened-out skin tone, enhanced skin elasticity and a reduction of fine lines and wrinkles."
Meet our experts
At Select, we work with experts who have specialized knowledge and authority based on relevant training and/or experience. We also take steps to ensure that all expert advice and recommendations are made independently and with no undisclosed financial conflicts of interest.
Dr. Sheila Farhang is a board-certified dermatologist and double-fellowship trained cosmetic surgeon as well as a reconstructive Mohs micrographic (skin cancer) surgeon in Tucson, Arizona
Dr. Howard Murad is a trained pharmacist, physician and an associate clinical professor of medicine at UCLA. He is the founder of Murad Skin care Inc
Dr. Marisa Garshick is a board-certified dermatologist in New York City and clinical assistant professor of dermatology at Cornell
Why trust Select?
Lulu Chang has over a decade of experience writing for top publications and websites. Her work has appeared on Business Insider, Well+Good, Bustle and more.
For this story, we interviewed dermatologists and asked them for their top product recommendations. We also looked at dozens of products on Select reader favorite sites, looking for skin care products that met all of our expert's requirements and had high ratings.
Catch up on Select's in-depth coverage of personal finance, tech and tools, wellness and more, and follow us on Facebook, Instagram and Twitter to stay up to date.